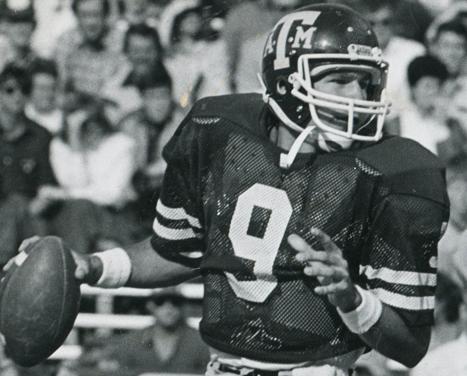 Tom Wilson felt he deserved another shot after leading A&M to a 7-5 record and a bowl win in 1981. The Board of Regents thought differently.
Wilson was fired on Jan. 18. A day later, Jackie Sherrill left Pitt for A&M after leading the team to an 11-1 record and a No. 2 ranking. Sherrill had lost only four games in three years at Pitt.
He accepted the largest coaching contract in the history of college football — $287,000 per year. At the time, Penn State coach Joe Paterno told Sports Illustrated, "Heck, you know how naive I am. But I would be shocked if there is any other coach even making $200,000."
But in the team's first eight games, Sherrill lost four. Included was a loss to SWC bottom feeder Texas Tech, which hadn't won a conference game in two seasons. Though Gary Kubiak was putting up great numbers through the air, the Aggie defense struggled. SMU's Eric Dickerson scored three times in a 47-9 rout of A&M at Texas Stadium.
Against Texas, the Longhorns' Darryl Clark scored a touchdown on the first offensive play to set the tone for a 53-16 romp, which left the Aggies with a 5-6 record.
The A&M defense — under R.C. Slocum in his first year at defensive coordinator — gave up a school record 314 points and more than 400 yards per game. Kubiak was a bright spot, however, and led the SWC with 1,948 yards and 19 touchdowns as a senior.