Texas A&M had a new coach (Kevin Sumlin), a new conference (the SEC), and a new quarterback (redshirt freshman Johnny Manziel). The Aggies opened the season at home against Florida, but a seven-point halftime lead turned into a 20-17 defeat.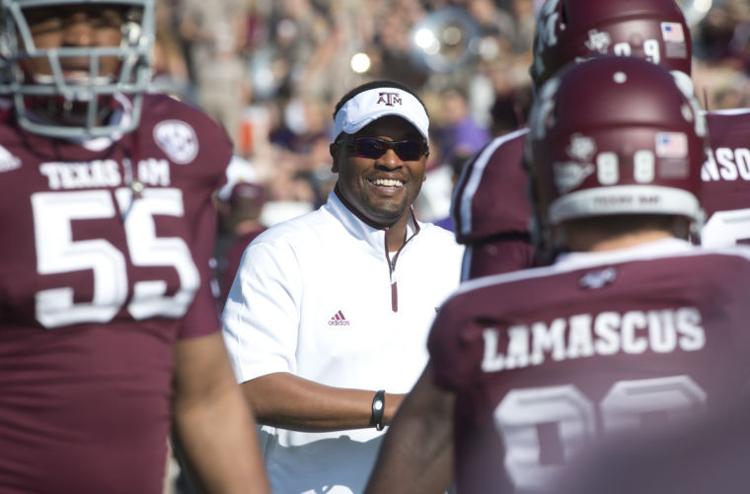 The Aggies rolled over Arkansas in a 58-10 victory at Kyle Field. Manziel broke the SEC record for total offense in a game, with 557 yards and four touchdowns. A&M overcame six turnovers and a late 10-point deficit to beat Ole Miss, 30-27.
The No. 22 Aggies survived a thriller, beating No. 23 Louisiana Tech, 59-57. Manziel broke his own SEC record with 576 yards and six touchdowns. Against LSU, the Aggies were up 12-0, but had five turnovers and fell at Kyle Field, 24-19. A&M steamrolled Auburn on the road, 63-21, and did the same to Mississippi State, 38-13, setting up a showdown in Tuscaloosa against No. 1 Alabama. Led by Manziel, the Aggies stunned a raucous crowd, getting out to a 20-0 first-half lead. Alabama got within six points in the second half. Manziel thew a touchdown pass to Malcome Kennedy, and Alabama answered with a long touchdown pass to Amari Cooper. Alabama had the ball again in A&M territory — down just five points. On fourth down from the A&M 2-yard line, Deshazor Everett stepped in front of an AJ McCarron pass to seal the upset victory.
Manziel finished the 29-24 win with 345 total yards and three touchdowns, vaulting him into the Heisman Trophy race.
The Aggies finished the season with five consecutive victories to end the season at 10-2. Luke Joeckel became the first Aggie to win the Outland Trophy. And Manziel became the first freshman, and second Aggie, to win the Heisman.
A&M concluded its dream season by blowing out Oklahoma, 41-13, in the Cotton Bowl. Manziel broke the Cotton Bowl record with 516 total yards and four touchdowns. A&M finished the season at 11-2 and ranked No. 5. It was the first time the team had finished in the top 5 since 1956.