Even before Jimbo Fisher was named the new head football coach at Texas A&M, A&M System Chancellor John Sharp held high expectations for the position.
>> Social media reacts to dateless national championship plaque presented to Jimbo Fisher <<
In late November, when asked what he is looking for in a new head coach after a special meeting of the Texas A&M University System Board of Regents, Sharp did not mince words.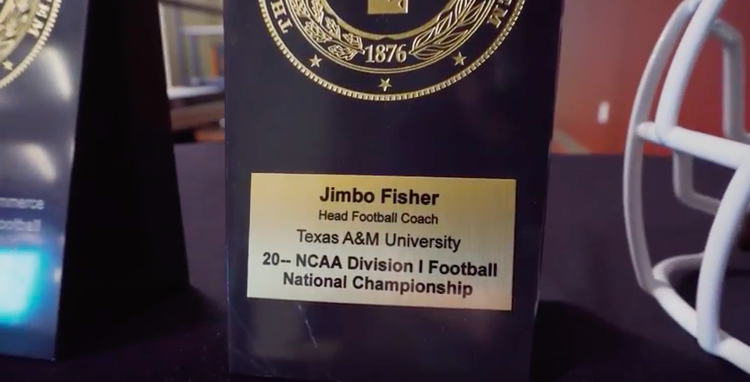 "Nothing serious. Just want to win a national championship," he said.
After a question and answer panel discussion during the Chancellor's Century Council annual meeting on Feb. 16, Sharp presented Fisher with a plaque celebrating a NCAA Division I Football National Championship for a date yet to be named, which can be seen in a video released by the Texas A&M University System.
The gift was given after the Chancellor presented Texas A&M-Commerce head football coach Colby Carthel with an identical plaque commemorating the Lions' 2017 NCAA Division II title.
"The only difference between Colby's and yours is you get to fill in the date," Sharp told Fisher during the presentation
"I hope I fill in a couple," Fisher responded with a laugh.
Fisher will get his first on-field look at his new program beginning on March 20, when the Aggies open spring practice. A&M will open the 2018 season at home on Aug. 30, a Thursday, at 7:30 p.m., facing Northwestern State. The game will be televised by the SEC Network.