Les and Andrea Heard don't like to talk much about the days after the Texas A&M University Bonfire fell in 1999. Placing blame, stirring up anger and opening emotional wounds is difficult to handle.
The couple lost their youngest son, Christopher Lee Heard, when the pile of logs came crashing down. Rather than talk about themselves or how they've handled the loss, they prefer to focus on the good times — family trips, funny memories, anything and everything about Chris. Reliving those memories is much easier, they said.
When the Heards do allow themselves to reach back to that tragic day, they think about how happy and excited he was hours before the accident.
The day before, his mother heard pure joy in his voice, she remembered. The 19-year-old freshman member of the Corps of Cadets had called home to share the news with his parents that he and his roommate had signed up to enter the U.S. Marines after finishing college.
"He was so happy that day," Andrea said. "That was what he had always wanted, to be in the Marines."
But less than 24 hours later, on Nov. 18, 1999, the Heards received a much different call — the call no parent ever wants to get. They soon learned Chris was among 12 Aggies killed as they worked on Bonfire, which had been built by students each year for nine decades years as a way to prepare for the annual football game against the University of Texas.
Changes
It's been five years since the collapse killed those 12 Aggies and injured 27 others, and the Heards are still mourning.
"As a mother and son we were very close," Andrea said of Chris. "We did a lot together. I miss him a lot."
Since the collapse, she said, the family has moved from their home in west Houston to Port St. Joe, Florida. There they are closer to the glistening blue waters of the Gulf of Mexico. Chris was an avid scuba diver who was studying ocean engineering. He loved the ocean, Andrea said.
The move from Texas to Florida was a change the family needed, Andrea said.
"We couldn't stay," she said. "There were just too many memories. It was too much, so we had to make some changes."
Chris, who was born in Wyoming, moved with his family to Texas when he was 5. His mother said he loved growing up in Texas and often would sing country tunes and two-step.
It's a trait that Andrea, a native of England, laughs about. Her son definitely did not get his musical abilities from her, she said.
"He knew the words to every song, and he was a pretty good singer," Andrea said. "He had the moves, too. He was a really great dancer."
Andrea said her son's larger-than-life personality drew people to him. He had dozens of good friends and often served as an inspiration to his peers.
"He was an outstanding leader," Andrea said.
Chris was diagnosed with attention deficit disorder and struggled in public schools, but once he enrolled at the Marine Military Academy in Harlingen he flourished, his mother said.
"It was a perfect fit," Andrea said. "Chris just excelled there. Their disciplined environment suited his learning style."
At the academy, Chris was awarded Outstanding Senior of the Year and served as company commander during his senior year. He also was captain of the swim team, trained for boxing and was a brown belt in Okinawan Karatedo.
"He did everything," Andrea said.
Texas A&M was the only university to which Chris applied, and he was excited about joining the Corps of Cadets. He was a member of K-2 Company.
"I told him he didn't have to stay in [the Corps], but he said, 'No, I'm going to,'" Andrea said. "He was looking forward to being a senior. He said he wanted to make a positive difference when he was in a leadership position."
Considering their son's personality and caring attitude toward others, the Heards weren't surprised when they found out Chris — who was perched high up on the Bonfire stack that cold November night — called out to warn those below him when he felt the logs began to shift. Trying to help others was the last thing Chris did.
"That sounds like something he would do," Andrea said. "That doesn't surprise us. He was always looking out for others."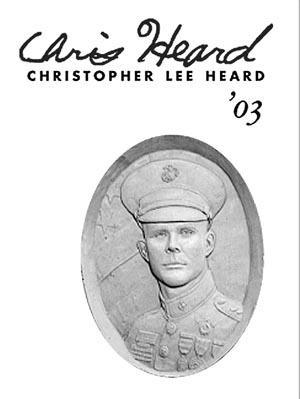 The return
When the Heards travel to College Station for the Nov. 18 Bonfire Memorial dedication, it will be their first time back together since the tragedy. The family opted to stay at home surrounded by a group of Chris' friends on the night of the first anniversary of the collapse, when a large memorial service was held on campus.
"I know this will be hard, but we want to be there," Andrea said about this year's remembrance and dedication ceremony. "We are very happy and excited to see a few of Chris' friends."
It also will be the Heard family's first time to see in person the Bonfire Memorial, which was built on the A&M Polo Fields where Chris died. The memorial pays tribute to the fallen Aggies with a large bronze relief sculpture of each, along with their signatures and a personalized message from their families.
"We are looking forward to seeing it," Andrea said. "We were impressed with the people who put it together. They were so sensitive to our feelings, and the sculptor did an awesome job. He really wanted to get it right."
On Chris' marker, the family chose to list words that described the young man: traditional, loving, loyal, tough, cool, music lover. There also are several quotes from Chris, along with those from friends, family and teachers who knew him best.
"We want Chris to be remembered as someone who loved his country and his friends and his family," Andrea said. "He was a very good person. We are sorry that we lost him."