Local chef and restaurateur Tai Lee recalls a time nearly 20 years ago, during his days as a student at Texas A&M University, when he says the Olive Garden was among the few decent places to eat in Bryan-College Station.
In recent years, the exploding population growth has brought with it a rapidly expanding demand for new dining options and an increasing interest from state and national chains. These trends, according to Lee and city officials, bring a combination of opportunity and concern.
Lee opened his first restaurant business in 2007, which launched an enterprise that has grown to include Veritas Wine & Bistro, Madden's Casual Gourmet, Paolo's Italian Kitchen and Chef Tai's Mobile Bistro, along with the forthcoming Urban Table. Lee said he is pleased to see more food options — particularly in the upper-scale market — but he worries about overcrowding in specific segments.
"I love that we're getting new restaurants as our population grows to meet the demand, so locals and students don't have to wait [as long]," Lee said. "It does make the consumer better off, but one of the bad sides is that we're getting a lot of similar restaurants. How many chicken strip restaurants can we bear? How many more taco places? Especially when we already have a home-grown taco restaurant like Mad Taco."
Peter Madden — founder of Madden's and owner of Mad Taco — shares Lee's concern over a saturation of the restaurant market. But he also says he looks at the new competition as motivation.
"There are a lot of new choices," Madden said. "As someone who eats out, I'm happy that we've got all of these options in the restaurant industry. It's caused everyone to up their game. I'm confident in what we do at Mad Taco and what we offer, but it's never a bad thing for someone to come nudge you and remind you to stay on your toes."
Growth and demand
Natalie Ruiz, College Station director of economic development, said the city's growth has continued at a fast pace, especially around south College Station, Texas Avenue, University Drive and at Jones Crossing, where a new H-E-B is expected to bring businesses to the developing area.
The increasing population has boosted the demand for new restaurants, Ruiz said, but she also attributes some of the trend to Texas A&M's move to the Southeastern Conference in 2012.
"More and more folks are recognizing College Station as a destination," she said. "We're growing as a community and we're also seeing more visitors coming in."
Though the demand for dining options is there, Ruiz said it does not immediately translate to success. She said Wayside Food Park — the food-truck hub in the Northgate district that opened in early December — is still working to establish its place in the community and grow its client base.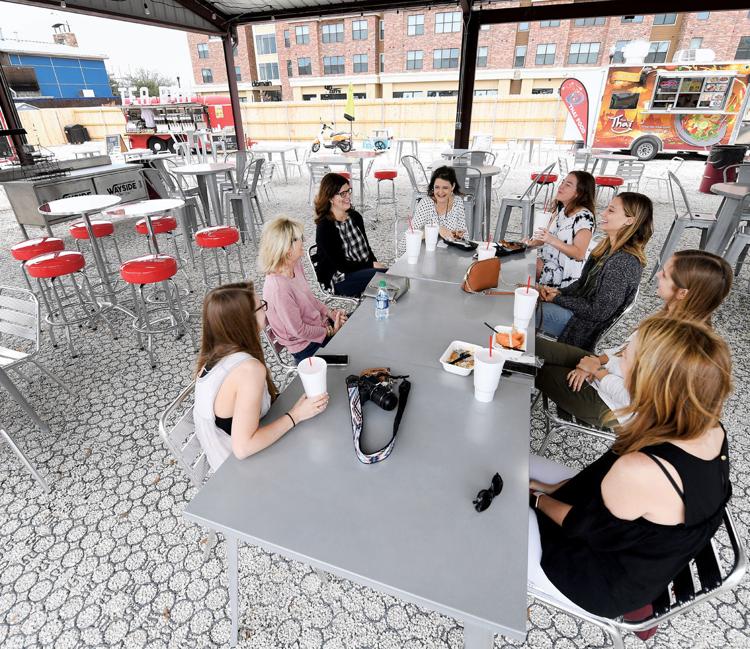 "It's always tough when you first open a business to get people to know where you are and to establish a clientele," Ruiz said. "We're hoping to see them do well."
Ruiz said drawing more restaurants to the southern end of College Station — where Madden recently opened a second Mad Taco location and Lee is bringing Urban Table — has long been one of the city's top priorities. The work is beginning to pay off, she says, with the forthcoming arrival of new restaurants including Gringo's, Casa do Brasil and Walk-on's Bistreaux and Bar.
South College Station has great potential for more restaurants and businesses, Madden said, but he would like to see more people staying and working south of town, with features and attractions to get customers to remain there for an extended period of time.
"I think until we get other businesses that are not restaurants out there, it's still going to be behind the curve in terms of being where the business is," Madden said.
Cuisine choices
Lee said he would like to see the local industry nurture a more diverse food culture, which would then open the door to more innovative dining options.
"There are still a lot of concepts that we're lacking," Lee said. "We could certainly do better with Chinese restaurants, Thai restaurants, and we could certainly have a lot more ethnic restaurants, especially considering that A&M is a very international school. ... A lot of people in Texas, they like what they're used to eating. We love chicken-fried steak and barbecue — I probably eat it at least once a week myself — but we can't eat that every single day."
Among the buzzworthy new restaurants this year is OMG Seafood on Texas Avenue in Bryan. Other Cajun spots are well-established in the area, and some have opened and closed in recent years. OMG owner Shane Billiot said he believed there was an opportunity in the market, but he was shocked by the support received in the restaurant's first month of business.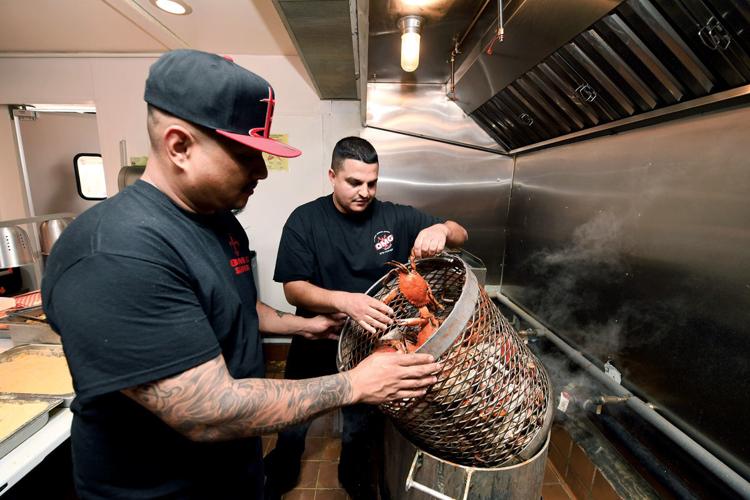 "I just thought it would be a really good market," he said, "and to be honest, I didn't know we'd be doing this well."
The U.S. Army veteran and Louisiana native lives in Houston, where he also owns Bayou Brothers Seafood. Billiot, who says he began boiling crawfish at age 7, moved to Texas in 2016. He was first acquainted with College Station when he visited for an A&M football game with Louisiana State University, and said he has been pleasantly surprised by the demand and the friendly atmosphere of the area.
Billiot said that based on the level of interest, he is already eyeing a second location in south College Station.
"I'm real humbled by the support we've gotten," he said.
Bryan Development Manager Cody Cravatt said small enterprise eateries — mom-and-pop type restaurants like OMG — are the biggest recent trend he has seen in the city.
Downtown Bryan has been a particular focus, and Cravatt said new establishments were looking to be in a "town center atmosphere" where people were more likely to work and congregate. Among the new restaurants he mentioned opening in the downtown district over the past few years: Ronin, Molly's Cafe, Rx Pizza, All the King's Men, Patranella's and The Bistro.
Cravatt said he would like to see more restaurants on the east side of the city, where neighborhood, retail and commercial growth is increasing. He said the west side of Bryan has also seen recent growth and has begun to generate additional interest from fast-food restaurants.
Lee said as Bryan-College Station continues its rapid development, one of his most significant concerns is making sure the area avoids becoming a "cookie-cutter city" as the industry continues to grow.
Interest from the national chains is beneficial, Lee said, but he believes it is also essential to support the men and women who live and invest in the area. They "put themselves on the line," he said, to deliver "bold and different concepts."
"We want Bryan-College Station to stay unique," Lee said. "That comes from the great people we have in town and is reflected in the great local culinary scene."