The tradition of Reveille sprung from a story of student rule-breaking, but symbolizes Aggieland's values, affection and camaraderie. The sable-and-white rough collie serves as Texas A&M's mascot and the highest-ranking member of the Corps of Cadets. For more than 70 combined years, Reveille has walked and lived among the students.
Reveille: 1932 to 1944
The first Reveille was not a canine of pedigree — just a mutt. Newspaper articles reference the black dog with white markings on her paws and face as part Spitz with fox-terrier heritage.
At least 36 former students have claimed to have a part of the beginning the Reveille tradition. The recurring thread in most accounts is that cadets riding in a Model T hit the dog with the car — or found her alongside the road — while making their way back to campus from Navasota in January 1931. The cadets picked her up and sneaked her into the dorms. Other accounts claim she was found in a ditch near the campus' North Gate. Cadets were not allowed to have pets in the dormitories. The often-repeated anecdote on how the dog got its name occurred the next morning. She barked at the sound of Reveille, the morning bugle call.
George Comnas, class of 1935, attempted to set the record straight during 1980's Muster. He said in January 1932, he found "a little whimpering animal, which was a small nondescript dog principally of fox terrier bloodlines with some other mongrel blood, who had been hit by a car and was lying in a ditch" on campus. Comnas claimed to have brought the dog to his dorm, Leggett Hall, and enlisted others to help nurse the pup. A veterinary student reset its hip. In order to escape detection, Comnas said, the cadets kept the dog in a box, hidden under their beds and in the baggage room on a lower floor during inspection days.
After about a week, Comnas wrote, the dog recovered enough to join the cadets for morning exercises. "Here comes our Reveille," Comnas recalled saying. "And the name stuck. … I did not recognize at the time that a trend was being started, nor did I recognize that Reveille had become a symbol of the attitude of love and affection which an animal can have for a man, and man for the animal."
Another theory: The book Reveille: First Lady of Texas A&M by Rusty and Vanessa Burson explains that Dr. Mavis P. Kelsey, class of 1932 and co-founder of the Kelsey-Seybold Clinics in Houston, wrote a letter to Jerry Cooper, class of 1963. Cooper had published an article in the Texas Aggie alumni magazine on Reveille's origins. Kelsey said he "believed several people 'discovered' the same dog on different occasions." He recalled how he saw the same friendly, stray dog during his time on campus. "Then the dog started following the band and greeting people at the mess hall, and the next thing I knew, this exact same dog was known to everyone," Kelsey wrote.
There are discrepancies as to which year Reveille started leading the Aggie Band onto Kyle Field for the halftime show. The class of 1947 published a booklet after Reveille's death to raise funds for a grave marker. According to the booklet, "Rev [capered] along with the drum major" during the Aggies' 1931 season opener against Southwestern on Sept. 26 — "under the obvious conviction that the whole show was staged for her benefit."
According to Reveille: First Lady of Texas A&M, Reveille made her debut during a football game in 1932, and "it was the moment that officially earned her the designation as the school's mascot."
The first reference of Reveille in The Eagle was following a game between A&M and Rice on Nov. 11, 1932: "Pre-game ceremonies featured the Aggie and Owl bands, the former being led by Reveille, little black cur of the Aggies who wore [her] maroon and white blanket."
Sources agree Reveille had free rein of the campus, including the dining hall and dormitories, and she traveled with the Corps on trips. Reveille set the precedent of how her successors would travel — not in a crate or a carrier. When the Corps traveled by train in the 1930s, according to Reveille: First Lady of Texas A&M, Reveille had her own seat, despite the conductor's protests. Today, when a scheduled appearance requires Reveille and her handler to travel by plane, the duo flies first class, or in a private plane.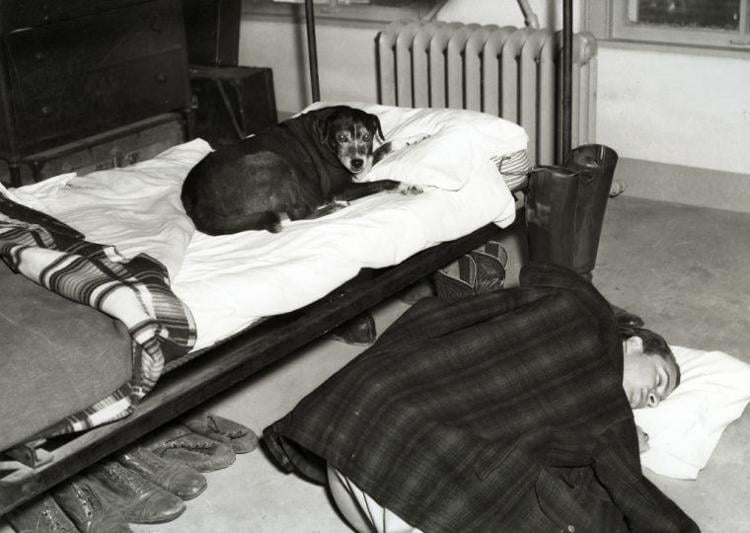 Former students who were cadets during Reveille's reign have passed down oral histories of her exploits that add to the tradition. One such tradition is that if she finds her way into a student's bed, the cadet has to sleep elsewhere, even the floor. Today, such a feat is not so easy for Reveille as beds can be lofted.
Reveille made a cameo in the 1943 movie We've Never Been Licked, filmed on the A&M campus. During World War II, Americans could purchase a rank for their pet as part of a fundraiser for the K-9 Corps, a division that used trained dogs in active war zones. The cadets raised $100 to make Reveille a general. Enough donations poured in that the students commissioned a local artist to paint a portrait of "the General."
The portrait was unveiled before the 1943 Bonfire.
"Reveille is more than an animal," said interim A&M President Frank Bolton. "She is tradition. To many a homesick freshman, Reveille represents the dog he left at home; that dumb friend that could always be depended on for a wag of the tail and a friendly bark, no matter how dark the clouds or how negligent were other friends. Reveille was a tangible, visible connecting link with a carefree boyhood."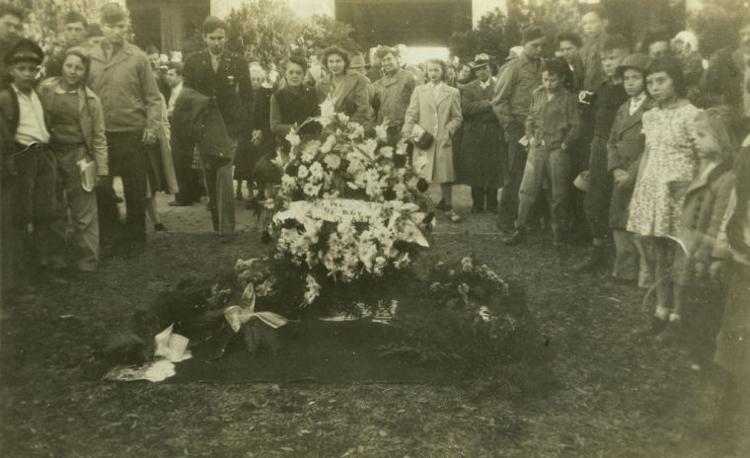 Reveille died on Jan. 18, 1944. She was approximately 13 years old. The Corps of Cadets conducted a formal military funeral in the middle of Kyle Field to show its appreciation. According to The Eagle's coverage of the "impressive ceremony," the Spirit of Aggieland and Taps were played as cadets carried the small white casket outside the stadium. Reveille was buried facing the scoreboard so she could symbolically see the Aggies win. The Reveilles that followed have been buried in the same fashion.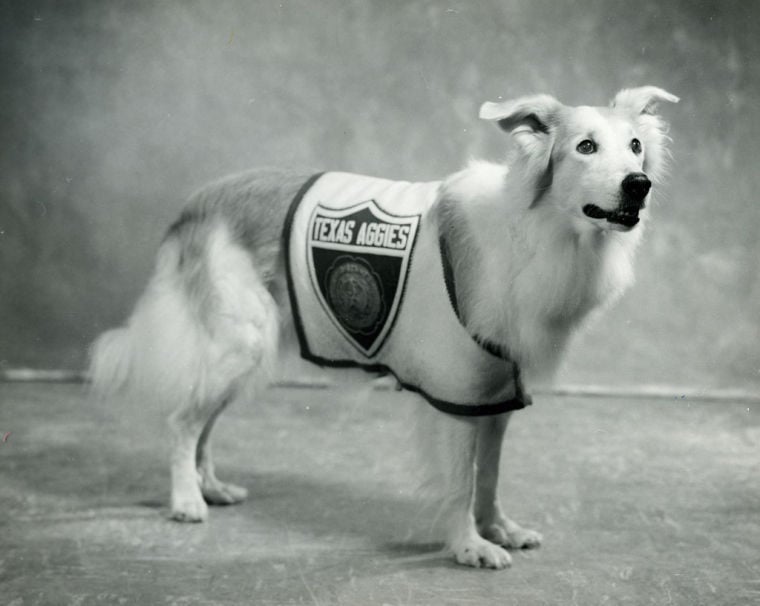 Reveille II: 1952 to 1966
It was eight years after another Reveille was anointed on campus. During that time there were several false starts. Rusty, another mongrel pup, would cower around loud noises, which was counterproductive at football games. Freckles, a cocker spaniel, left with her owner when he graduated. Spot, a dalmatian, took a tumble out of the stands at Kyle Field. He recovered, but was run over by a car in October 1950.
In 1951, the student body voted unanimously to find another Reveille. Arthur Weinert, class of 1900, donated a Shetland shepherd puppy to the Aggies in January 1952. She "[captured] the hearts of the Aggies just as that first little mongrel did," according to a January 1954 Eagle article.
Reveille II lived in a dog house near the band dorm and was the only Reveille to have offspring. In December 1952, she became a mother of 10 puppies.
According to an Eagle article in 1954, Reveille II had the same enthusiasm as her predecessor, who was known for her playfulness during halftime performances and football games. Reveille II would frolic and prance in front of the band during halftime performances. She was what the Aggies had been looking for since 1944.
According to The Fightin' Texas Aggie Band by Don and Mary Jo Powell, the band was initially responsible for Reveille II. Her dog house burned down in 1954, and she was left to roam the campus, according to Reveille: First Lady of Texas A&M.
Sam Netterville, class of 1955, and others in A-Quartermaster Company took up Reveille's care. The Corps of Cadets recognizes Netterville as the first mascot corporal, according to his obituary. When classes resumed that fall, Netterville took Reveille everywhere, including his classes, and she slept at the foot of his bed. Netterville is credited with saving the tradition and finding a way to procure funds to take care of her, according to Reveille: First Lady of Texas A&M. A-Quartermaster Company, and later Company E-2, became known as the mascot company.
Reveille II was dubbed "the naughty girl of Aggieland," according to a 1958 Battalion article. People would place bets on which Kyle Field yard line Reveille would use as her backyard during the games. She was accused of  "nipping" a referee before the game against the University of Houston on Sept. 27, 1958. The student body voted to keep Rev on a leash because of her antics.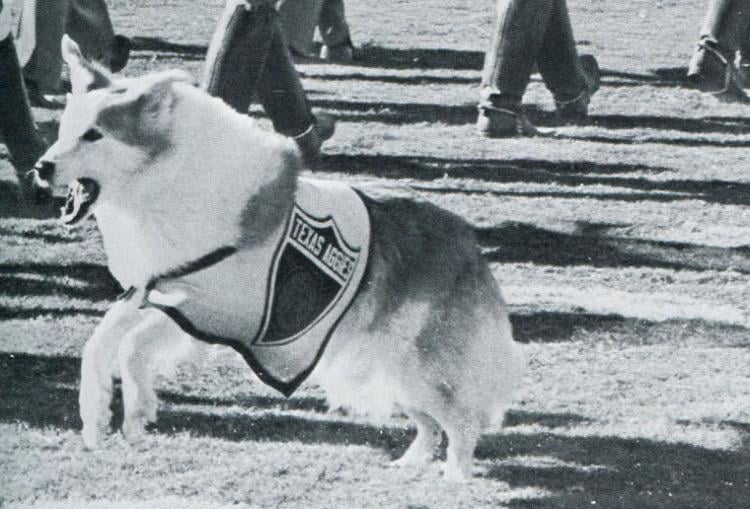 During the Oct. 18, 1958, game in Fort Worth, Rev bit Walter Roach, the Texas Christian University football coach. (A&M lost, 24-8.) Roach and other TCU officials wrote a letter to the A&M athletic directors, saying that even though Reveille's bite broke the coach's skin, they weren't angry, just concerned about her behavior and if she was up to date on her vaccines. Roach joked to a columnist for The Dallas Morning News that "Reveille definitely bit me in four places, once for each touchdown we scored against the Aggies. … I'm going to keep a sharp eye out for the Baylor's bear mascot when we play them." The commander of A-Quartermaster said her behavior was a first, and attributed it to old age and nervousness. Reveille was muzzled the following week in Waco. The Aggies won, 27-3.
Reveille II's last mascot duty after 14 years was Final Review in 1966. Her health had declined, and her kidneys were failing. Hip arthritis prevented her from being able to stand and she was on several medications. Veterinary school faculty put the ailing canine to sleep in August that year, in an effort to prevent a painful death. She was buried next to her namesake.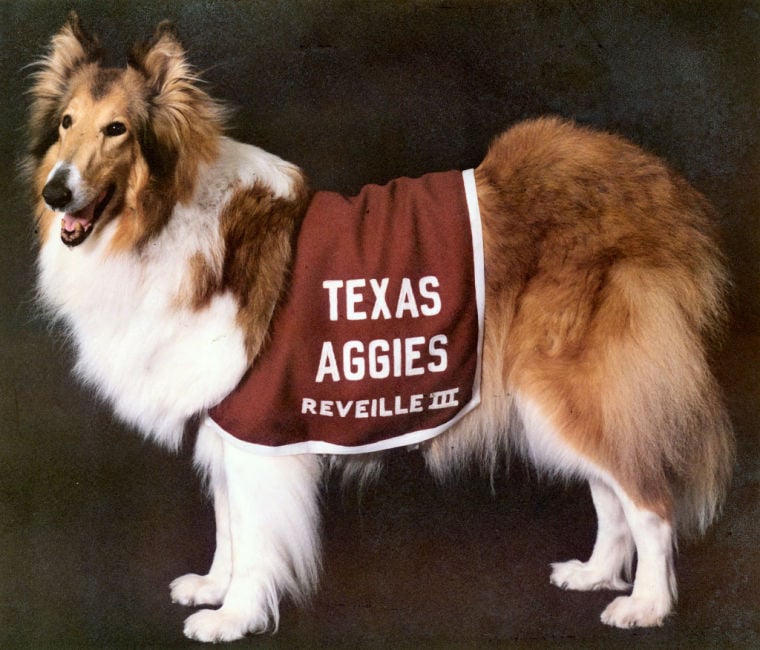 Reveille III: 1966 to 1975
Reveille III was the first American purebred collie to assume A&M mascot duties. She had "a thick coat, suitable for the cooler Alaskan climate" according to a June 1966 Eagle article. She was eight weeks old when Randy and Steve Andes, twin junior cadets from Anchorage, Alaska, presented the puppy to the student body during Final Review.
Reveille made her debut at the Aggies' first home game in 1966. One of her favorite pastimes was chasing Frisbees in front of the Corps dorms and making cadets come to attention when she walked by them, according to a 1974 Eagle article.
Don Jones, class of 1977, was her last handler. He said she hated harmonicas and "whistle jocks" — the freshmen who loudly made the day's announcements. He also described her as a prankster, even faking a limp on their way to class to attract attention from passersby. According to Reveille: First Lady of Texas A&M, she learned how to stand on her hind legs and drink out of the water fountain.
Reveille III had a larger wardrobe than her predecessors. Head yell leaders were responsible for the first Reveille's blanket. Both Rev I and II had free rein of campus and only wore covers for game days. Reveille III had more prominence as a living symbol. She had two dress coats and four net covers, along with apparel, towels and bedding. Each Saturday, E-2 freshman platoons would alternate giving her a bath. The other platoon would polish the grave markers of the previous Reveilles.
Reveille III participated in her last Final Review in 1975. She died May 31 that year, after recurring bouts with a pancreas disease. Tests revealed the disease and scars on her lungs in 1973, according to The Eagle.
At her time of death, she was 9 years old. Corps officials decided to store Rev's body in a freezer at the vet school. They wanted to wait to hold her funeral until September, when school resumed, so students could attend, according to The Battalion in September 1975. False rumors were circulated as to where Rev's body was being stored. She was buried outside Kyle Field alongside her predecessors.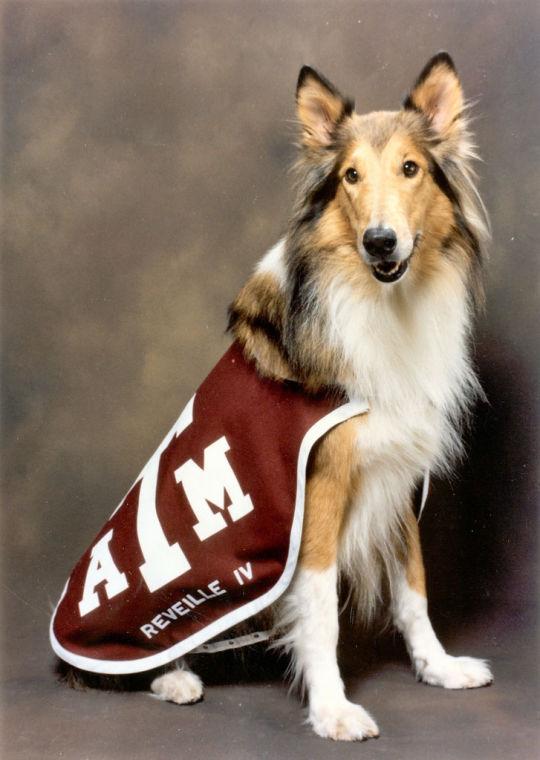 Reveille IV: 1975 to 1984
Reveille IV was born in Kansas in 1975. Thomas Goodwin, veterinarian and class of 1967, donated her to the student body. She was also a collie but more golden in her coloring than Rev III. She attended the burial rites for Reveille III in September 1975 and her first football game that fall.
In 1980, Rev gave her handlers a scare when she had two mild seizures in one week. She had previously been diagnosed with a hypothyroid condition, which was linked to seizures. Neil Van Stavern, Reveille's doctor, said it was not unusual for her to have convulsive seizures, and traced her brain waves with an electroencephalogram, according to The Battalion in March 1980. He said it was possible she had a form of epilepsy. Stavern prescribed thyroid medication she had taken in 1979 for a skin problem and continued to monitor her health. Her life was in no real danger, Van Stavern said.
She was promoted to the rank of cadet general, the highest rank in the Corps of Cadets, in May 1981. She received a leather collar with five diamonds, according to The Battalion in May 1981. Today, five silver diamond-shaped discs are affixed to the blanket Reveille wears.
Reveille IV retired at the end of the 1984 football season as she neared 10 years old. She lived the rest of her life with Lee Phillips, class of 1953 and director of professional development at A&M, and his family. Rev died in March 1989 following an operation. She was 14. According to the Houston Chronicle, about 10,000 people attended the military-style funeral service at Kyle Field during Parents' Weekend. She was buried on the north side of Kyle Field, joining the previous Reveilles.
Texas A&M mascot Reveille V stands on the sideline of the Cotton Bowl game as Reveille VI takes it easy, Jan. 1, 1994, in Dallas. (AP Photo)
Reveille V: 1984 to 1993
The Company E-2 cadets chose Reveille V in November 1984. The 12-week-old collie was from Del Rio, Texas. Her parentage was known to anticipate health problems, according to The Eagle article announcing the selection. She made her debut during a 1985 basketball game. Her coloring was darker than Rev IV.
Before Rev V was a year old, she received her Corps brass when housebroken and her five diamonds after mastering the game of fetch with a Frisbee, according to The Battalion in April 1985. Rick Holcomb, a former mascot corporal, described to The Eagle in September 1999 how Rev stole erasers off chalkboards when attending class, wanting to play catch with the students in the front row.
In November 1993, Reveille underwent surgery to treat gastric dilation-volvulus. Deep-chested, large dogs including collies are predisposed toward the condition, according to the A&M vet school. Reveille's stomach had twisted or rotated out of place. She made a full recovery, but retired Nov. 25. She lived the rest of her life with Joe West, a local veterinarian, and his family. West is a member of the class of 1954 and a former senior yell leader.
Rev lived until a few months shy of her 15th birthday, before the decision was made to euthanize her. According to The Eagle in June 1999, Reveille V suffered from severe arthritis and pain. Her veterinarian, Claudia Barton, said Reveille could no longer use her rear legs, and medication could no longer help. Kyle Field was under construction at the time, so the previous Reveilles had been exhumed and moved to Cain Park in 1997. Reveille V was buried with them in August 1999, when students returned for classes.
Reveille VI: 1993 to 2001
Reveille VI was born Sept. 3, 1993, and appeared alongside Rev V at A&M's game against Louisville at Kyle Field on Nov. 13, 1993. The "princess" was 10 weeks old and hadn't yet learned to walk with a leash, according to The Eagle article covering the passing of the torch.
A search committee selected the collie puppy from Plano. Her "mascot training" was cut short during her first winter holiday spent with the mascot corporal, Jim Lively. She was stolen from the Livelys' home in Dallas right before New Year's. According to The Eagle, both Reveille V and VI were staying at Lively's family home before the Cotton Bowl game against Notre Dame. Lively's father had let the puppy outside into the fenced backyard, where she was taken. It was the first instance that an A&M mascot had been stolen. Rev was 4 months old.
A group of University of Texas students claimed responsibility for the kidnapping, according to the Austin-American Statesman. The UT group dubbed themselves the "Rustlers" and admitted to watching the Lively home for months, waiting for the right opportunity. The students contacted the newspaper and presented the puppy as proof. The Rustlers' demands: "A&M must publicly state that UT is superior to A&M before the puppy [is to be] returned," according to The Statesman. In response, A&M officials gave the Rustlers a deadline for Reveille's return before criminal charges would be filed. Reveille VI was university property, according to The Eagle. Her abduction was classified as a third-degree felony, punishable by two to 10 years in prison and a fine of up to $10,000.
The puppy was found tied to a sign around Lake Travis in Austin. Charles Hall, her College Station veterinarian, gave her a bath and cleared her for Cotton Bowl duty. Hall said Reveille was agitated, but more bothered by a case of fleas she picked up before her rescue.
Lively was not disciplined because there was no negligence found on his part, Corps officials told The Eagle.
A&M officials warned Aggies against retaliation: "If you want to get even with t.u., beat the hell out of them on the football field, the basketball court, the volleyball court … even in tiddlywinks," said Bob Wiatt, director of the A&M police department, in a January Eagle story.
Neil Sheffield, a UT student, claimed he was the kidnapper when he ran for student body president in 1995. According to Reveille: First Lady of Texas A&M, Sheffield told The Daily Texan that he had planned the entire stunt as something to help him with the election.
Two years later, Reveille VI was diagnosed with epilepsy. She suffered her first seizure during the December 1995 Alamo Bowl. A&M veterinarians said feelings of excitement or fear triggered the seizures. A&M's veterinary clinic put the collie on medication to "lower her sensitivity threshold to seizures," Barton told The Eagle in January 1996.
Reveille resumed her mascot duties and was able to maintain a normal life despite having to take an antiseizure medication. Reveille attended former President George W. Bush's 2001 inaugural ball in Washington, D.C.
Reveille VI retired in spring 2001 at 8 years old. She was retired at an earlier age than her predecessors because of the side effects from Phenobarbital, a sedative used to control her epileptic seizures, according to Reveille: First Lady of Texas A&M. Used long-term, the sedative caused liver damage. She went to live with Hall, one of her retired A&M veterinarians, and his family.
She lived for another two years. She had to take nine pills and two liquid medications each day, according to a September 2003 Eagle article. "She rarely [slept], pacing constantly at night through the Halls' home," according to the article.
Reveille was euthanized in October 2003, a month following her 10th birthday party. Her funeral was in November. She was the first mascot to be buried in the newly constructed permanent gravesite outside Kyle Field. Reveilles I through V were moved again in 2000 from the temporary gravesite at Cain Park to the plaza facing the north end of Kyle Field. It was equipped with its own scoreboard, so the mascots could again watch the Aggies win.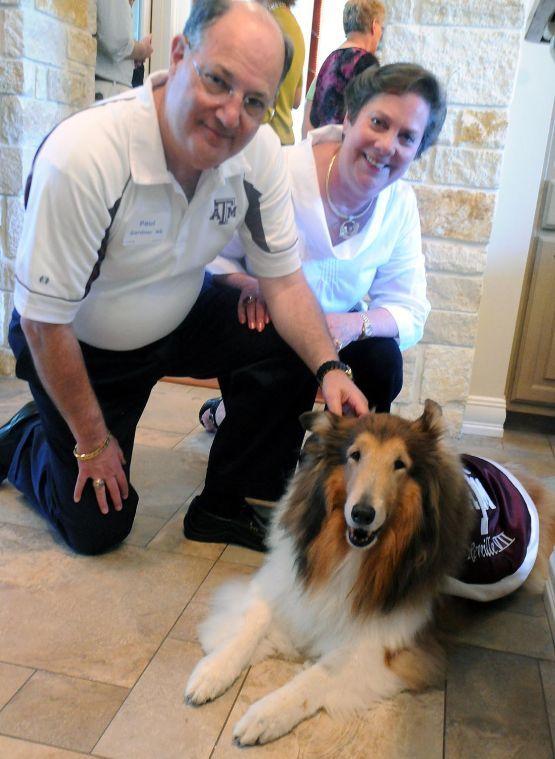 Reveille VII: 2001 to 2008
Reveille VII wasn't just chosen, she was genetically engineered for her role. According to The Eagle in February 2001, the search for Reveille VI's replacement started in 1999. On recommendation by Barton, Company E-2 contacted dog breeders from Fort Lauderdale, Fla. Cindi Bossart and Jeff Efron, a married couple, owned several Westminster Kennel Club champions. Bossart, a veterinarian specializing in genetics, and Efron went to work looking for the best collies to parent the next A&M mascot.
Both parents were champion best-in-show collies with temperaments that seemed suitable to the kind of lifestyle their offspring was to lead. The mother was artificially inseminated, and on Oct. 9, 2000, Argent Barksdale Reveille VII was born.
At 4 months old, "Rev Sev" made the journey to College Station and debuted in February 2001 at a basketball game. Due to behavior problems including excessive barking, Reveille attended obedience school several times. She broke free from her handler when frightened by the Aggie Band's loud noises on Nov. 9, 2002, during A&M's upset win over No. 1 Oklahoma at Kyle Field. She took a tumble off a ledge at the Y.M.C.A. building during Yell Practice following the Aggies' win. The fall caused a hairline fracture in one of Reveille's vertebra. She was placed on bed rest for six weeks.
That same month she was banned from local restaurants, according to The Battalion in November 2002. The change was one of practicality so businesses could be in compliance with health-code regulations. The modification was more of a hindrance on her handlers' social lives, because she goes wherever the mascot corporal goes.
In September 2007, Reveille bit her handler when he accidentally stepped on her tail during an outfit run. It was an instinctive reaction to pain, but she was suspended and had to stay under quarantine at the vet school for 10 to 14 days, as per state law. She was only absent from one football game. (A&M beat Fresno State, 47-45, in triple overtime.) According to The Eagle, E-2 cadets went to visit her and many saw it as a vacation from her demanding schedule.
During Rev Sev's tenure, she attended President George W. Bush's second inauguration and the 2006 Holiday Bowl in California. At the age of 8, she was ready to retire in accordance with veterinarians' suggestion, as she had made more public appearances than her predecessors.
The mascot retired following Final Review in 2008. She lived in College Station with her guardians, Paul and Tina Gardner. She celebrated her 10th birthday in 2010 with members of the Aggie family, former handlers and her successor.
Reveille underwent emergency surgery on May 28, 2013, for respiratory issues. She experienced pneumonia-like symptoms the next day and died at about 10 a.m. on May 30. Memorial services will take place Sept. 6, 2013, at Reed Arena, so that students can attend after returning to campus from summer vacation. "We loved her so much," caregiver Tina Gardner told The Eagle. "It was a prestigious honor to have her in our home."
Reveille VIII: 2008 to 2015
The A&M search committee scoured the country looking for the right canine as the next Reveille. They even opened considerations to other breeds to broaden the spectrum, as well as older dogs to better gauge the animal's temperament. Suggestions poured into The Eagle beyond the American collies, including a mutt as a nod to the original Reveille, the Texas breed Blue Lacy, Irish wolfhounds, etc. The dog was found just in time for the 2008 football season to start.
Julie Hinrichsen and Russell Dyke, a Kansas couple and owners of a collie kennel, entered their 2-year-old Tapestry Tenacious Juell for consideration as A&M's next mascot. According to The Eagle in August 2008, Aggie vets in the area went to visit the collie, nicknamed Kelly, at the couple's home.
Kelly was the only finalist to visit Aggieland. The couple and the dog came to visit the campus for a series of final tests to see how the dog would handle its new surroundings and attention. Reveille VIII made her official debut at the 2008 season opener at Kyle Field.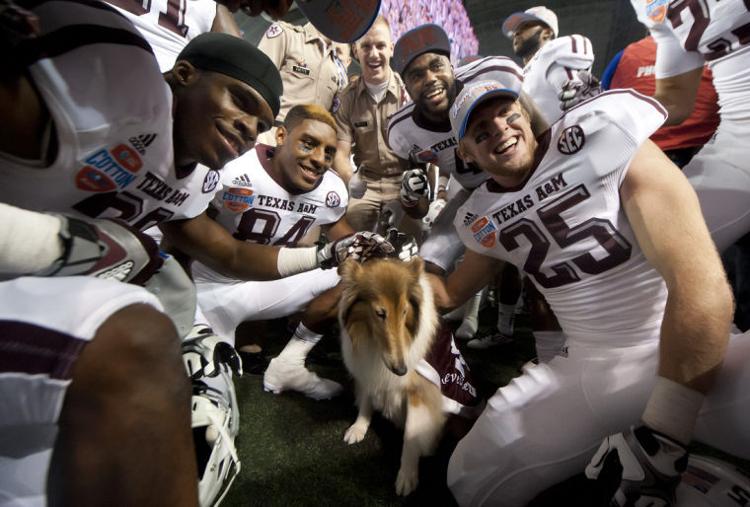 Daylon Koster, mascot corporal for 2012-13, described her as "mellow and laid back," and wanting to play with anything that runs or flies.
"She stays really calm [at football games], and it's almost because there's so much going on that she doesn't really focus in on anything," he said.
She knew a humorous trick, as well: When asked if she'd rather be a t-sip or a dead dog, she'd roll over and play dead.
To prevent another incident like the 1994 kidnapping of Rev VI, Company E-2 cadets share the responsibility of watching her.
"Even for a second we can't turn away because that's how quick it is for her to get on after someone," Koster said. "And [Reveille VIII is] so docile that she'll go with anybody."
In 2014, Rev and mascot corporal Ryan Kreider made headlines. During a game at SMU, a sprinting Mustang wide receiver went out of bounds, which happened to be in the direction of Reveille. Television cameras captured Kreider jumping in front of Reveille to prevent a collision. Corps of Cadets Commandant Brig. Gen. Joe Ramirez paid for Kreider's senior boots as a thank-you. "I thought that this young man deserves something special for what he did on a national television audience," Ramirez said. "I told him these aren't just from me, but every Aggie all over the globe who is proud of what you did."
Reveille VIII was retired as A&M's mascot in 2015, and lives at the Stevenson Companion Animal Life-Care Center. As The Eagle's Sam Peshek wrote: "She is still treated in the same manner she has been for the past seven years as Aggieland's first lady, with weekly grooming sessions and semi-daily teeth brushing after her retirement."
Reveille VIII died June 25, 2018. She was 12 years old. She was buried on Aug. 30 on the north side of Kyle Field alongside the previous seven Reveilles.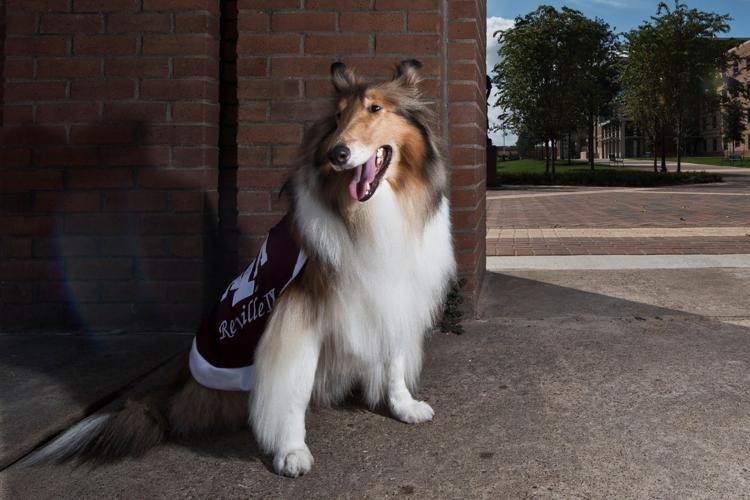 Reveille IX: 2015-present
On March 10, 2015, A&M announced the selection of Reveille IX after seven months of searching. The 16-month-old collie from Chargin Falls, Ohio, named "Twix" took over for Reveille VIII on May 9 following the Corps of Cadets' Final Review.
Gavin Suel, the 2016-2017 mascot corporal, said that Reveille is making the most of her position as A&M royalty. Example: She appears to ask for help getting onto a bed by putting her front paws on the bed and waiting for Suel to pick her up and do the rest.
"She's the queen of Aggieland, and it didn't take her long to figure that out," Suel said.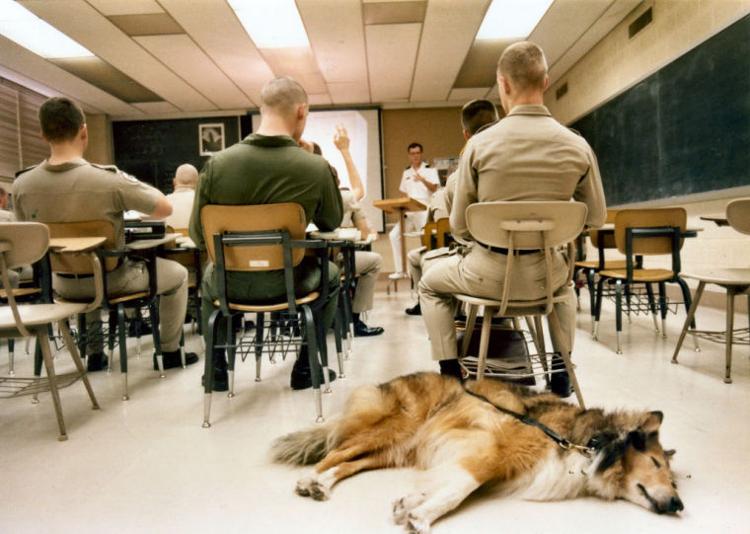 Reveille's get-out-of-class legend
Reveille gets a new mascot corporal handler every year, and they share a student ID.
One of Reveille's longtime legends — getting class dismissed early — has an element of truth. The story goes that if a lecture is boring enough for Reveille to bark, then the students are not learning much, Koster said. So a professor might dismiss the rest of class to return another day.
"The only time [Reveille VIII] really barked was the last three minutes of animal science," Koster recalls. "She was in the front, and the professor was talking and doing body language of animals. She got really interested, so she barked just one time and the professor let everyone out. So that was really memorable."
As a testament to the Reveille's effect, the American Kennel Club ranked the mascot in 2009 at No. 2 for the top 10 dogs in pop culture. Snoopy was No. 1, and Scooby-Doo was No. 3.
— Compiled by Claire Heathman